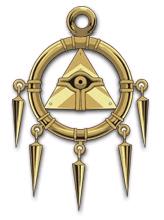 The Millennium Ring is one of the 7 Millennium Items. It also houses the spirit of Yami Bakura and later Yami Zelda. The Millennium Ring originally belonged to Ryo Bakura, but was taken by Fabia Sheen and later reclaimed by Naruto Uzumaki, who kept it until Season 15 when it returned to Ryo Bakura. Ryo Bakura then gave it to a reformed Zelda following the destruction of Zorc Necrophades. The Ring eventually returned to Ryo Bakura after Zelda was killed by Samus. The Millennium Ring made its final appearance in the second arc of Season 20, as Kirby ate it for no reason.
Primary Owners
Edit
Ryo Bakura/Yami Bakura (Former owner)
Fabia Sheen (Received from Yami Bakura)
Naruto Uzumaki/Yami Bakura (Reclaimed by Yami Bakura)
Zelda/Yami Zelda (Received from Ryo Bakura)
Ad blocker interference detected!
Wikia is a free-to-use site that makes money from advertising. We have a modified experience for viewers using ad blockers

Wikia is not accessible if you've made further modifications. Remove the custom ad blocker rule(s) and the page will load as expected.